Coordinator News
December is a time for family and friends, busy schedules, Christmas events (concerts or parties), and possibly looking back on the year and looking forward to the next. One thing we are thinking about in the Creech household is change. Ed, my husband, has been looking for new employment for a month or so because his employer had warned him that they were no longer able to keep him full-time. As it turns out, he found a company, was hired, and started his new job the beginning of this week (the week before Thanksgiving)! All of this took place in about a week and a half. The catch is that this job is in Indianapolis, Indiana. I am originally from Lafayette, Indiana, about an hour away from Indy, so we will be moving to about an hour away from my parents and my brother's family. I have not lived within 500 miles of my family for over 20 years.


I say all of that to let my REACH family know that we will tentatively be moving around the end of the school year. The kids really want to finish the school year in Russellville, and for now, I am ok with that plan. We have a few cosmetic things to do to the house before we put it on the market, and we need for the house to sell before we relocate. Please be in prayer that the transition will be smooth and simple. In the meantime, Ed will be staying with my parents and driving an hour each way to work each day.


So, looking back at the just over four years we have lived in Russellville has been great. We have truly appreciated all that REACH has had to offer – from park day to co-op to parties to field trips and teen events. These have all allowed us to create a community of friends that we would otherwise not have met. Now we are looking forward to all the great opportunities that await us in our next destination.


Another thing to think about is that the coordinator position in REACH will need someone. The board has been discussing some exciting new things for REACH for the future. I would love to see a mom with younger children to step in and lead REACH into the future. As I said when I took over as coordinator, I believe REACH is in a generational transition period where the moms with older students help the moms with younger students to step up and lead the organization. I still believe this. Please be in prayer that the next coordinator is willing to lead and excited for all that REACH can be. Blessings, families! Enjoy your holiday season!
Board News
The next board meeting is January 13.
REACH Meeting
There is no monthly meeting in December. Enjoy some time with your family!
Education Alliance Homeschool Update Meeting-January
For ALL Homeschoolers in the River Valley
Hosted by REACH (Russellville Education Association of Christian Homeschoolers) Education Alliance* is the official voice for all homeschoolers in the state of Arkansas when it comes to legislation and liaison activity with the Arkansas Department of Education (ADE). The goal of Education Alliance is "Promoting, Protecting, and Strengthening Homeschooling." Lisa Crook, guest speaker, has worked for …
Moms' Night Out Door Prizes
The mentoring committee is currently collecting door prizes for our Moms' Night Out coming up on February 24. Do you have a slightly used book that you think other moms may want to read? Do you have a gift that just wasn't exactly what you were expecting or needed/wanted, and you would like to re-gift it to other moms? …
Membership News & Reminders
Second Semester Membership Dues
If you opted to pay your dues by the semester, it is time to pay for second semester. Dues are $30 if paid by January 15th, $35 after January 15th. You may pay by: Visiting the REACH PayPal link. Here are payment directions. By mailing it to the REACH PO Box: REACH Attn: Membership, P.O. Box 12192, Russellville, AR 72812 Or pay …
Communication Survey
We would like to hear from our membership concerning the REACH communication system.  Please fill out the following short form to give us feedback. REACH Communication Survey
Business Directory
The Business Directory has been combined into our Membership Directory. Businesses are listed with the member who owns the company. You can now search for business type/information on the Membership Directory page. If you own a small business and would like to provide information, please email web@rsvlreach.org. Please include the business name, contact information, a link to your business website or …
HSLDA
If you plan to join HSLDA you can receive a discount as a REACH member. Just enter the code 210726 when prompted. Annual membership is $115 with our group discount, a savings of $15.
Library Reminder & Announcement
Library items are not due until the end of May, but please take some time as we finish up 2019 to look through the items you currently have checked out and return anything that is not being used so others have access to them.  If you are returning anything breakable or large, you may place it on the check-in table …
Yearbook
Check out our new yearbook tab under the teacher toolbox. It has details on photo submissions, senior page submissions, yearbook orders, and yearbook deadlines. All yearbook events on the calendar as well as yearbook posts automatically feed to this tab so you can find all of our yearbook information in one place.
PSP Day-Parties/Skating/Parks
PSP Christmas Party
🎄🍪 All ages are invited to the REACH Christmas party! 🎁⛄ Each family needs to bring Christmas goodies to share (REACH will provide table service and drinks). Then we'll make Christmas ornaments and play Bingo (with prizes for all the kids!).

Please sign-up by Dec. 10.

Christmas Party Sign-Up
Remember that the 2nd Friday of each month is devoted to PSP-Parties/Skating/Parks. These activities are open to all ages including teens, but there must be an accompanying adult.
Fall Clubs meeting in December
On December 6, we will sing Christmas songs as a group and give gifts at the nursing home. Contact Velvet at activities@rsvlreach.org if you plan to attend and would like to bring a gift. Students wanting to play instruments or sing individually may choose any song; it does not have to be a Christmas song.
Spring Semester Club News
As the semester comes to a close, I wanted to send out a big thank you to everyone who hosted a club this fall!  It is so great to be able to provide our children other opportunities to learn and to form friendships.  Also thank you to all those that participated in the various clubs.  We hope everyone enjoys the …
Spring Intensives
I would like to say "Thank you" to all the members who have organized an intensive for the REACH fall semester. I hope your students have enjoyed "Hot Air Balloon rides to ACT Prep time" as soon of the various intensives this fall. We would not be able to offer these opportunities without everyone organizing and participating. So what's in …
Charcoal Art Intensive-January
Teacher: REACH mom - Kelly Lilley
Deadline to sign up is

Jan 17th

and payment must be received by

Jan 22nd
Checks can be made out and sent to: Melissa Hefley 6171 Market Street Russellville, AR 72802 Remember to bring a sack lunch.
Supplies: Sketch pad - medium - no smaller than 8x10, Charcoal Art Kit. Kelly has …
Coming this spring. . .

Note Taking Skills Intensive
Please be watching emails and website for more details.
Field Trips
What spring field trips would your family like to participate in?
There are so many great opportunities in our community as well as surrounding areas for field trips! If there's somewhere fun and/or educational you've been wanting to go perhaps you'd like to organize a field trip the spring semester so other homeschool families could join in!

Anyone in REACH can plan a field trip

. Here are some ideas of potential field trips: …
Old State House Museum Arkansas History Day-
December
The Old State House Museum will host an Arkansas History Day for home school students. Students will interact with educators, meet different living history characters, and will learn about Arkansas's rich history in resources, politics, and historical events during this 3-hour event. http://www.oldstatehouse.com/About-Us/History-of-the-Old-State-House/overview. Old State House Field …
Please contact Velvet at activities@rsvlreach.org ASAP if you missed the sign-up deadline but would like to attend.
Nutcracker Play-
December
Deadline for sign-ups is Dec. 2. Nutcracker Sign-up  Meet at 9:30 by the Box Office.
Play Field Trips Available for 2019-2020
Check out this revised list of play field trips available in the area for this year. PLEASE CONTACT MELISSA HEFLEY (melissakhefley@gmail.com or 857-1636) IF INTERESTED IN ORGANIZING A GROUP TO ATTEND ANY OF THESE PLAYS DO NOT CALL THESE CENTERS BEFORE VISITING WITH MELISSA
These need to be

booked 6 weeks ahead of time

or earlier - some do fill …
Mark April 17 on your calendars for a spring field trip to Northwest Arkansas
Wild Wilderness Drive Through Safari
Details on cost, etc coming soon.
Spring Testing
Dates, Times, & Location: TBA (will be early in May)
Cost: approximately $30/student due when the order is placed in February
Type of Test: TBD – Plan to have a meeting in late January to discuss options
Deadline to sign up is January 10
Recommendation on testing for those students who may attend college: test your …
Kindergarten Graduation-May 16
Kindergarten Graduation Sign-Up Link
Deadline to sign up: March 30, 2020
What your child will need to know for the graduation:
Verse: Please learn in this version so that all the children are saying the same thing and no one gets confused, thank you!
Psalm 119:105 NKJV Your Word is a lamp to my feet and a light to my …
Teen Christmas Party
It's a REACH tradition! The annual Teen Christmas party hosted by the Aylor Family is coming up soon! There will be games, guffaws, good grub, good gabbing, and a goofy gift grab! Solo boys bring drinks. Solo girls bring desserts. Sibling groups bring a savory snack (meatballs, cheese dip, little sandwiches, etc.). I'll need 4 chaperones for this party with …
November Marshmallow Wars Teen Event
was a success even with it being slightly wet!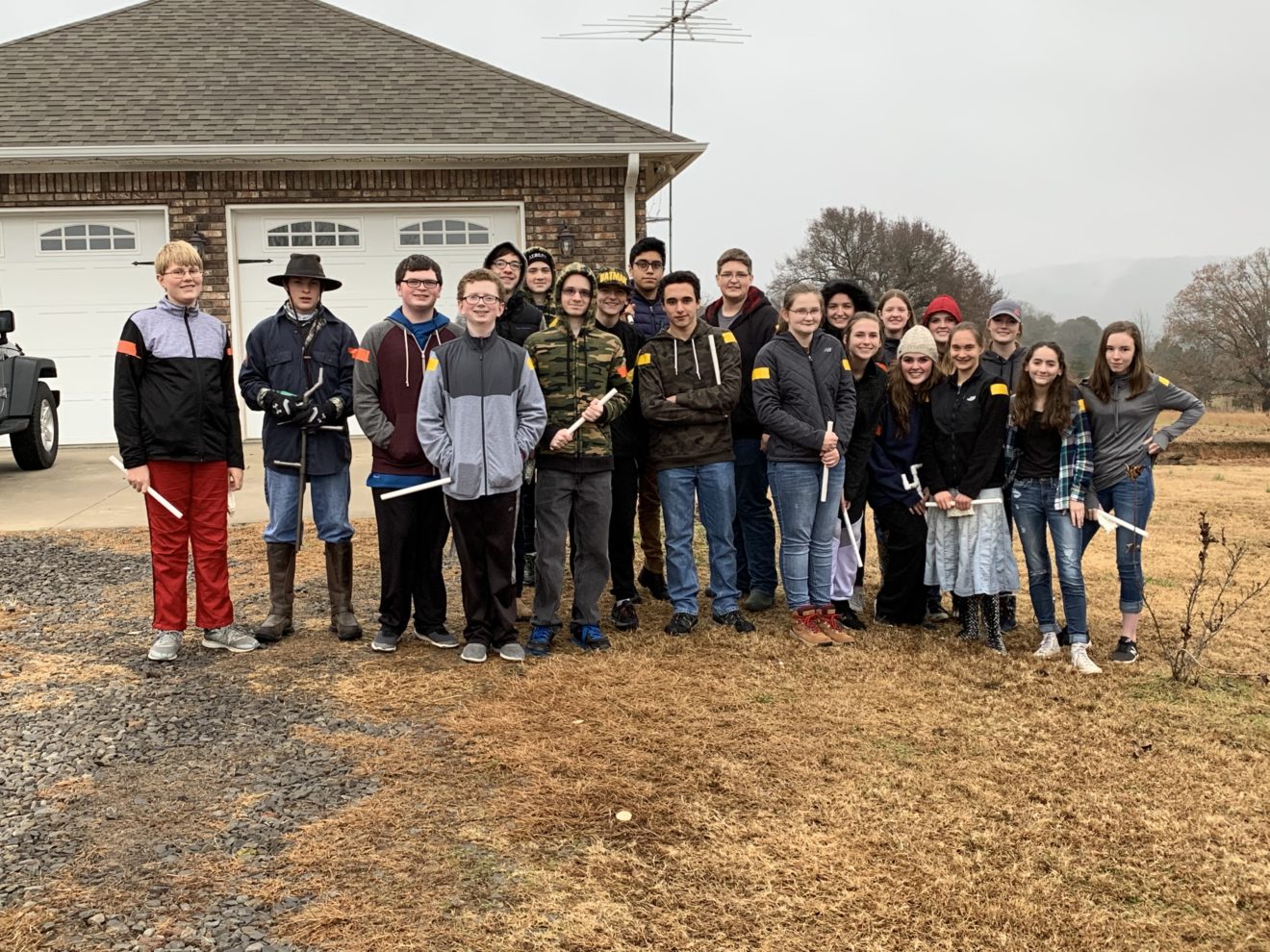 High School Spring Semester Classes
Spring Writing Class Update
Please note that there are some changes in our spring writing class. Amy Hughes, a former REACH member, will be the teacher. Below is an introduction from Amy and then information on location, dates, and cost.
Hello! My name is Amy Hughes, and I am excited to be teaching a writing class to REACH members in the spring semester. I …
Deadline to sign up: December 16
Public Communications High School Class
Come join us in a fun and activity filled journey to learn to speak in public with poise and confidence. This public communication class will be taught by Sharon Garrett on the first Tuesday of each month Jan. 7, Feb. 4, Mar. 3, April 7, and May 5. We will examine key areas of communication and then each student will …
Deadline to sign up: December 31
Jr/Sr Banquet
REACH Dress Code Trifecta 2020 girls event only-click to see details
Decorating will take place on Thursday, April 23, 3:00-6:00
Friday, April 24- 4-6:00 Friends & Family invited to take photos and visit.
9/10th grade servers wear nice black/grey/white clothes.
11/12th grade guests and …
GIVE TO REACH
FlipGive - To become a team member, use code C339UZ when prompted.
Fresh Roasted Coffee and Artisan Tea
Labels are collected at each REACH Meeting. A collection box is also located in the REACH Library. For the new style of Box Tops, be saving your receipts for scanning with a phone app when REACH has received approval.


REACH Codes/Information
REACH Library Information
Please note that this information is for current REACH members only.
Sign in upon arriving and sign out upon leaving.
No food or drink allowed in the library.
Follow displayed instructions for checking out and returning books
Use the 3,300+ items

REACH Library Database
Check out our new library tab.
Local or State Events
**The following are not REACH sponsored events but are provided for informational purposes only.**
TeenPact
**The following is not a REACH sponsored activity but has been attended by REACH students. It is available for students ages 8-19.**
Heard about TeenPact but have no idea what it is? Looking for some Civics credit? Looking for leadership opportunities and/or extracurricular activities for your student? From the TeenPact website: TeenPact is designed to help students understand the political process, value their …