A Word From The Coordinator
As homeschool parents, we face so much during our days that can leave us in a roller coaster of emotions with all the work activity (both the kids' and ours), character building, and in our comings and goings. I keep thinking of how children are such blessings to us parents, so I want to share this Homeschool Mother's Prayer with you all. Enjoy and be blessed.
May I teach them what You want them to know
and in turn, You will teach me what You want me to know.
Lord, let me remember my job is to point them to You, and not to this world.
Help me to guide them on the path that leads to You.
Give me the strength when I feel I have none…
when I don't feel like it…let me do it anyway. When I am tired…give me your divine energy
When I want to put myself first…let me remember Your words that I may be humble.
Let me do this for Your glory, and not mine.
Lord, show me each day the path we should take.
When I get off course, thank You for Your mercy in bringing me back.
Let me remember these children are Yours, and You love them even more than I do.
Let me be thankful for the gift of spending each day with them.
Let me remember it will go by in the blink of an eye.
The complaining isn't forever, the noise isn't forever, the mess isn't forever…
And that is my goal. That we may spend eternity in Your presence.
Let this homeschool glorify You, show You to those around us, and please You.
Let me not get caught up in doing things the world's way…but Your way.
Let me not be distracted with the noise of this world, from the true goals You have set.
Let me remember that the books are important, but Your Word is most important.
May I see my children as the blessing they are that You created. Each unique and special
with a purpose to fulfill.
May I remember how blessed I am to be a homeschool mom.
Michelle Green - REACH 2021-2022 Coordinator
Board News
As REACH activities begin for the 2021-22 school year, the Board would like to remind its members about the REACH Illness Policy. We ask that you all be mindful of this policy before attending any REACH function. Thank you, in advance. We hope and pray for a healthy and happy school year for all.
The next Board Meeting is September 13.
Welcome New Members
Morgan Dunn lives in Russellville and has one child: Tucker, age 10. She is still deciding on a committee


Jordan and Megan Potts live in Russellville. They have two sons: Caleb, age 15 and Owen age 1. Megan will be a part of

the

Spelling Bee Committee.


Greg and Lisa Smith live in Dover. They have two children:Ethan, age 10, Elaina, age 8. Lisa plans to serve on

the

Field Trips Committee.


Lee and Misty Lewis live in Pottsville. They have three daughters: Maylee, age 11, Brylee, age 8 and Hadlee, age 6. Misty plans to help out for Field Day.


Anthony and Erin Baer live in Russellville. They have two children: Cooper, age 5 and McKinley, age 3. Erin agreed to coordinate with Tena's Gymnastics on behalf of REACH.
Meet The Board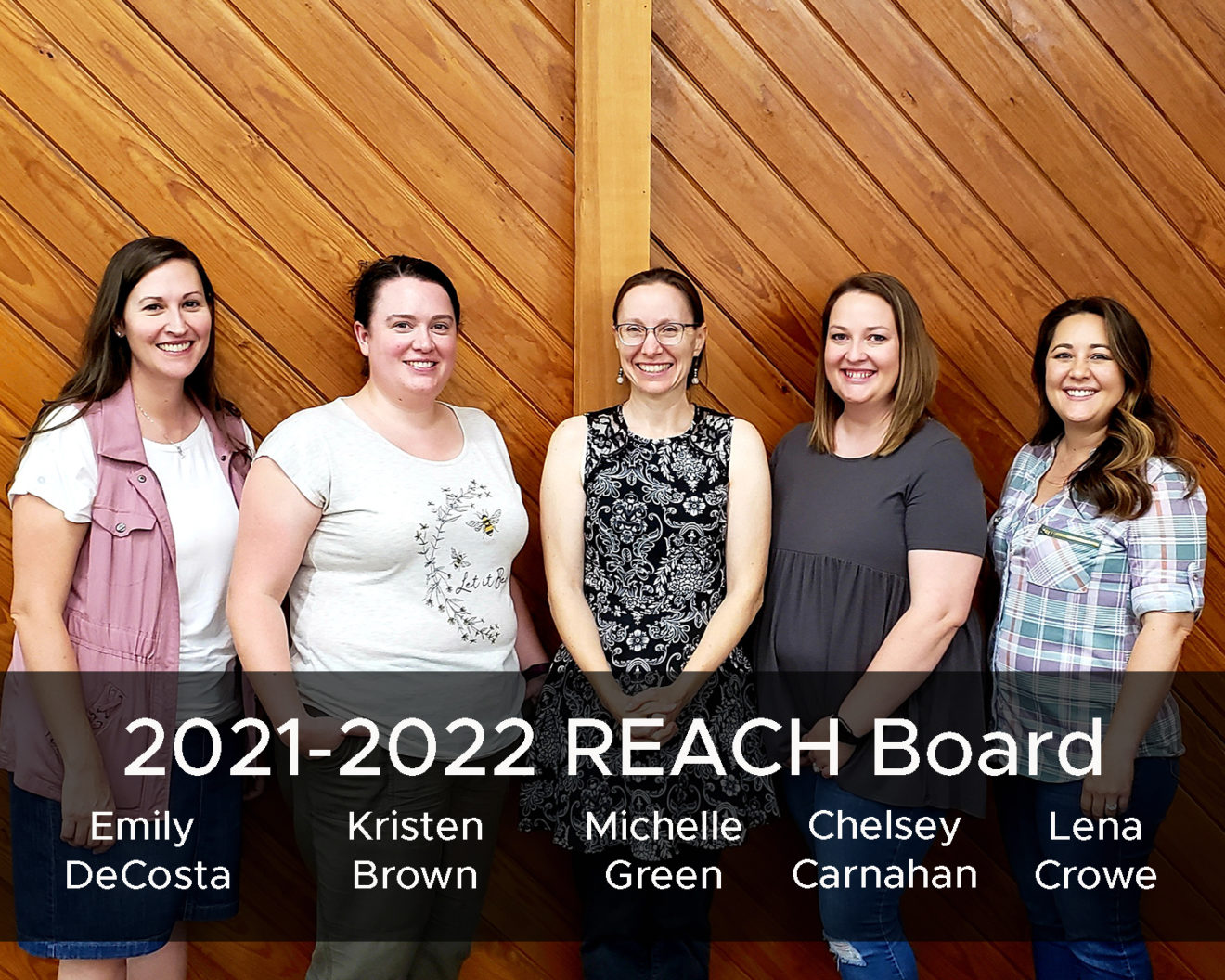 Michelle Green - Coordinator
I have been married to my husband, Michael, for 30
years. We have 5 kids and many honorary ones. Our first two are Ashley and Brittany
who
have both graduated from homeschool and went on to graduate college, as well. Next,
we have 3 boys: Caleb, Daniel, and Everett
.
Caleb has graduated from homeschool and works with Michael in our family
's
construction business
.
Daniel is in 10th
grade, and Everett is in 5th
grade
.
Our family enjoys serving at our church in various capacities. We also enjoy volunteer
ing
at Royal Family Kids Camp
and TRAC camps,
which both minister to kids in foster care. I am delighted to be serving on the Board of REACH. I serve with a magnificent group of ladies with a heart for REACH.
Lena Crowe - Membership Director
My husband, Josh, and I have been married for 13 years and have two children, Harper (age 9), who is in

the

4th Grade and Austin (age 6), who is in

the

2nd Grade. Arkansas has always been home to Josh, who grew up most of his life in Atkins, while I was raised up in Arizona and California. We actually met in California when he was working an outage at

the

nuclear plant where I was working in

the

cafeteria.

The

Lord led us to Buckeye Arizona for 10 years before He opened up

the

door for us to move back to Josh's hometown of Atkins.


We were led on this homeschool journey before we even had children. While in Arizona, we attended a small church where a majority of

the

kids were from homeschool families. We were both so impressed with

the

intelligence and respectfulness of these homeschool kids! (I mean, what other 10-year-old uses

the

phrase "emphatically incorrect" while discussing what he wanted from his father all while sounding unbelievably respectful?) I felt that we were called to homeschool our own children, and Josh supported this decision. Now, five years into our homeschool journey, we have seen God bless our children in so many ways through our decision to homeschool! I am so very blessed to be a part of REACH and I very much look forward to helping out our REACH families in whatever way I can.
REACH Meetings
The REACH meeting for September will be the Back to School Picnic, you will see more information below in the PSP section.
The REACH 2021 Spelling Bee will be held on Monday, October 25th, at 6:00 p.m. There will be three competitions divided by grade level categories: K-2nd, 3rd-5th, and 6th-8th. Participants will be given a 450-word list to study for the competition.

The deadline to sign up for this event is

October 1st, 2021

, but participants are encouraged to sign up early in order to receive the word list to study.

Read more
The October 11th REACH
Swap 'Til You Drop
meeting will be in Clarksville. Members will bring items to swap from home such as pictures, trinkets, journals, cooking tools/appliances (nothing large, of course), etc. More details will be given at the event.
Read more
Mark your calendars! At the November 16th meeting we will be having a REACH business expo and silent auction. A sign-up form will be going out at a later date if you have a business you would share with the membership. Be sure to sign up so we will know how many tables to set up for the displays. Read more
Membership News & Reminders
Business Directory
If you own a business and would like your business information added to your family listing in the Membership Directory, email
web@rsvlreach.org
. Please include the business name, contact information, a link to your business website or Facebook page, and a brief description. If you have any questions, please email
web@rsvlreach.org
.
HSLDA
If you plan to join HSLDA you can receive a discount as a REACH member. Just enter the code 210726 when prompted. Annual membership is $115 with our group discount, a savings of $15. HSLDA Membership Link
Put Your Smile On!! It's time to schedule student pictures for the 2021-2022 school year! I would LOVE to see 100% of our students! These photos will be used in the REACH yearbook and packages will be available for purchase. Read More
PSP Day-Parties/Skating/Parks
The 2nd Friday of each month is devoted to PSP-Parties/Skating/Parks. These activities are open to all ages including teens, but there must be an accompanying adult.
PSP will be starting again soon with the Back to School Picnic! The picnic will be on Friday, September 10, 2021, from noon until 2:00 p.m. With the way the COVID numbers have been lately, I have decided to go ahead and continue with some precautions, and copy what we did … Read more
Come join us for Park Day! This event is for all ages.
Clubs
We have a few clubs already being offered for this fall, but there's room for more! If you have an idea or know that you would like to host a club, email Lauren Scott at
lauren.jesusismyjoy@gmail.com
.
Come join in with other 7th-12th grade students playing the fun game of ultimate frisbee. All you need to bring is lots of energy and a water bottle. Read more
The Outdoor Play Club is an opportunity for families to enjoy fellowship at Old Post Park. This will be in conjunction with the Ultimate Frisbee Club. Read more
Tween Club will be for students age 9-12. Tween Club Kickoff will be on September 16, 2021. We will be hanging out at Lake Dardanelle State Park. Read more
This club is open for grades 8-12 and adults. It will meet 3 times in Oct-Dec. See calendar for other posts. A geared bike and helmet are needed. Paole Gemme will be the REACH parent riding with the students. Read more
This club is open to all ages. An accompanying adult is required for all kids/teens attending. Times for hiking will vary slightly but should fall within the 10:00-noon time frame. Read more
Intensives
We are looking forward to offering several intensives this fall. REACH intensives are usually one or two day activities to explore a particular topic. In the past, we have had the opportunity to attend intensives focusing on science labs, nature hikes, note-taking, writing, drawing, painting, the Constitution, and ballroom dancing. If you would like more information or have an idea and would like …Read more
This year's National Constitution Day is Friday, September 17! We plan to get together to honor and celebrate the Constitution with a REACH intensive. We will have a video from Wall Builders to share. This is probably most suitable for older elementary ages and high schoolers, but the whole family is welcome to attend. Read more
Field Trips
I'm so excited to be the field trip committee head. I love field trips so much! They are a great way to get kids interested in different subjects and they have the added bonus of bringing the group together. Read more
Join us at Ron Coleman Mining for your choice of three activities. It is $5 per activity per person. The deadline to sign-up is September 13. Read more
If you've never been here, it is basically Silver Dollar City without the rides. They have it set up as a craftsman's village. Each shop has different demonstrations, activities, or items to sell. They even have a one-room schoolhouse. The deadline to sign-up is October 14. Read more
Teen Events
Bring a lunch if you plan to eat. We will have the following activity options: volleyball, ultimate frisbee, and disc golf. Indicate your preference when you sign up. Sign up deadline is September 9.
Come join the Chauffe family at our home for volleyball fun and hangout time! Bring a lawn chair and a side or dessert. We will provide hot dogs and drinks. Please sign up ASAP so we can make sure to have plenty of food. Parents are welcome to come and hang out and help chaperone. The sign-up deadline is October 21. Read more
High School Classes
Below are some of the High School classes that we have scheduled for the 2021-2022 year. If you are interested in teaching or facilitating a High School class you may contact a Board Member with that request. All High School classes must be approved through the Board.
To All SR Parents: We are excited to announce that plans are in the making for our 2022 REACH Graduation! We are so excited to have 14 Seniors in the class of 2022! The date of the graduation ceremony is set for May 7th, 2022 at 2 pm. The location will be announced soon. We have some exciting events planned … Read more
Parents of kindergarteners: Kindergarten graduation will be in the spring! If you are wanting your child to participate don't forget to start saving schoolwork, projects, etc so they have something for their display table! Rebekah Brixey (head of kindergarten graduation committee)
GIVE TO REACH
FlipGive - To become a team member, use code C339UZ when prompted.
Fresh Roasted Coffee and Artisan Tea
Box Tops 4 Education A collection box is also located in the REACH Library. For the new style of Box Tops, you will need to use the Box Tops phone app to scan receipts within 14 days of purchase.


REACH Codes/Information
REACH Library Information
Reminder: Please note that this information is for current REACH members only.
Sign in upon arriving and sign out upon leaving.
No food or drink allowed in the library.
Follow displayed instructions for checking out and returning books
Use the 3,700+ items

REACH Library Database
Check out our library tab.
Local, State, or National Events
**The following are not REACH-sponsored events but are provided for informational purposes only.**
Tena's Gymnastics has a schedule of class dates for Homeschool school-age kids 5 & up. All classes will be an 11:05-11:40 class or a 12:05-12:40 class. Each day the ATU PE majors will be teaching a basic set of skills. There is a max of 15 … Read more
We are so excited to announce that the Claiborne Music Studio is offering Introductory Vocal Classes in the fall! We are offering half off for homeschoolers. Read more