A Word From The Coordinator
Blessings
Deuteronomy 28 holds many blessings for God's people. These are contingent upon our following His commandments, walking in His ways, and hearkening to His voice. As Christians, we set our eyes to do this daily.
As two major holidays draw near, Thanksgiving and Christmas, I'd like to focus on some specific blessings mentioned.



Vs 5 mentions blessings in our basket and store, and

Vs 8 mentions our storehouses again.

In modern day terminology, we can think of this as our gardens or our pantries; may they be full and plenteous.

Vs 6 mentions blessings in our comings and our goings.

This can be related to our travels or having family and friends welcomed into our own homes.



Vs 8 mentions the land God gives us.
May our homes and our land be a blessing to us and to others.



Vs 8 and 12 both mention blessings upon us and all we set our hands unto.

As we go about cooking, cleaning, hosting, and such, may we feel His blessings upon us.

I pray you all have a wonderful holiday season and feel God's obvious blessings upon your lives.
Michelle Green - REACH 2021-2022 Coordinator
Board News
The next Board meeting is scheduled for November 15th.
The December Board meeting is scheduled for December 6th.

The REACH Board would like to wish all our members a happy and joyous holiday season. Blessings to you all.
Welcome New Members
Austin and Macey Young live in Dardanelle and have two children: Oliver, age 5, and Quinnlyn, age 4. She will be helping out with Kindergarten Graduation this year.


Kristopher and Jaime Wiedmaier live in Dardanelle and have three children: Aubrey, age 15, Alexis, age 14, and Tanner, age 12. Jaime will be serving as part of the Mentoring Committee.


Casey and Rebekah McCraine live in Russellville and have three children: Lyla, age 12, Micah, age 8, and Selah, age 6. Rebekah is prayerfully considering where she will serve REACH.


Patrick and Staci Farnan live in Belleville. They have two children: Emmitt, age 7, and Harper, age 5. Staci will be serving on the Field Day Committee.


Daniel and Christine Phillips live in Dardanelle. They have a daughter they are homeschooling, Aviyah, age 7. Christine will be helping with Discovery Fair.


Patrick and Brooke McConnell live in Russellville. They have four daughters: Maeghan, age 10, Carley, age 7, Sadie, age 3, and Hannah, age 1. Brooke will be serving in PSP.


Jared and Holly Rairdon live in Russellville. They have four children: Elijah, age 14, Josiah, age 12, Makayla, age 9 and Olivia, age 4. Holly will be serving as part of the Mentoring Committee.


Evan and Colleen Barnes live in Dardanelle. They have a daughter, Gemma, age 6. Colleen will be assisting both the Field Day and Discovery Fair Committees.
Meet The Board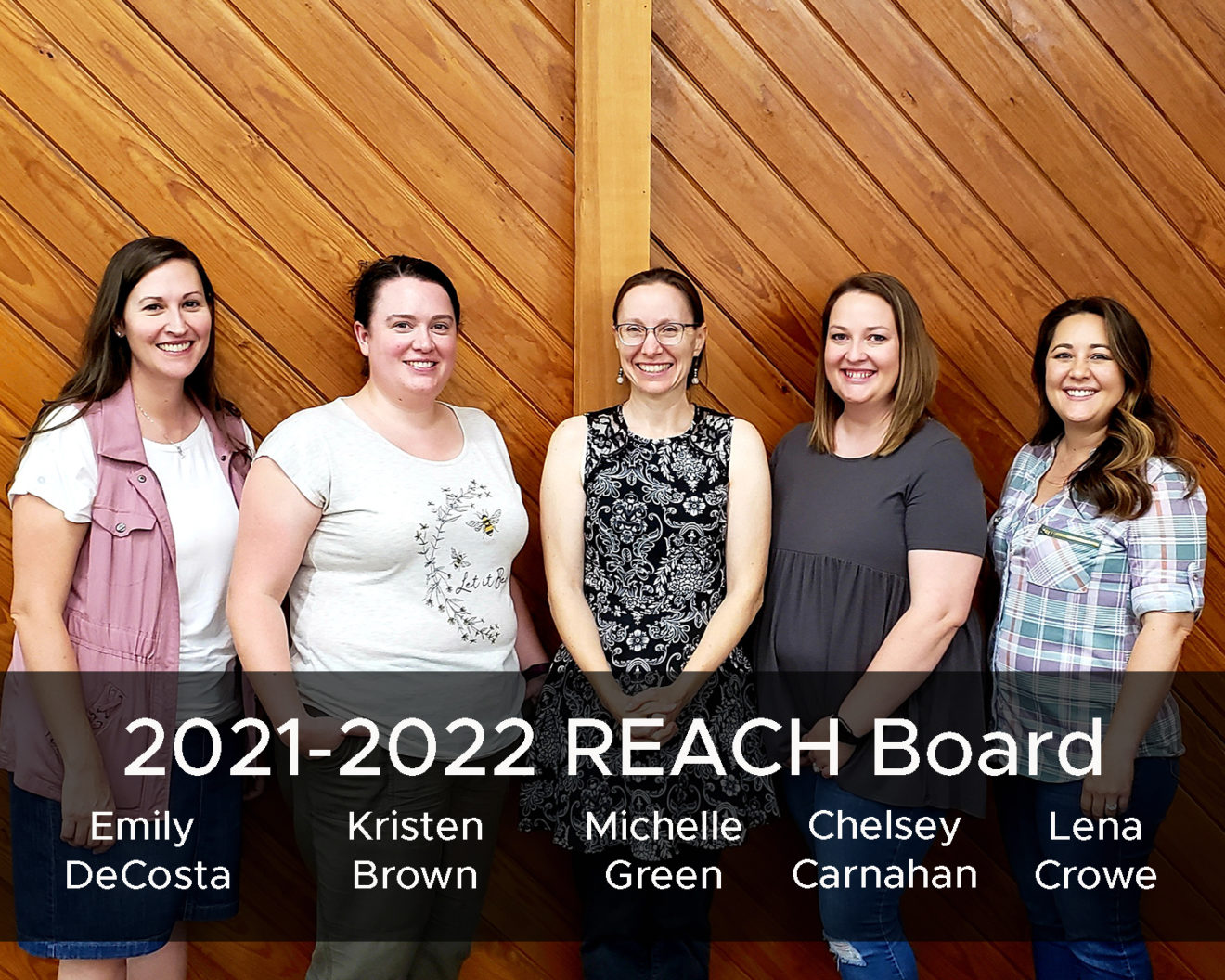 Kristen Brown - Treasurer
My husband and I have been married for 13 years and we have 2 kids: Lochlan who is 11 and in 6th grade and McKinley who is 8 and in 3rd grade. I also teach my nephew Caleb who is in 9th grade. This is our 7th year to homeschool and we love the flexibility it brings our family. Homeschooling is not something we ever planned to do, but it has been amazing to watch God work through our family. REACH has been a wonderful opportunity to meet new people, make friends, and enjoy fellowship with other homeschoolers. I went to school for Accounting and have a BA in Business Administration and my MBA so I have a strong business background. In addition to homeschooling, I currently work from home part-time for K12 assisting schools around the country as they provide Special Education services to children enrolled in public school. In whatever free time can be found, I enjoy crocheting, sewing and am trying (without much success) to learn knitting.
Emily DeCosta - Secretary
My husband, Matthew, and I have been married for 16 years. Matthew works for Entergy at the nuclear power plant. Our homeschool journey started out when our oldest was 4 years old. We chose to homeschool in order to give our children an education that was centered around God's Word and that would be flexible for our family's unique schedule. We've been blessed with 4 children. Max is 13 and in the 8th grade. Anna is 12 years old and in 7th grade. Alex is 9 years old and in 4th grade this year. Ethan is our youngest child and is 5 months old. Before homeschooling, I enjoyed helping in a small Christian school and taught piano lessons from home. I'm thankful for the opportunity to serve as Secretary with REACH. Our family has been so blessed by the friendships that we've made and the support that we've received through REACH. I'm looking forward to meeting with you all and helping you on your homeschool journey.
Chelsey Carnahan - Activities Director
My husband, Sean, and I have 2 boys. Adam is 9 and Asher is 4. Sean and I were married 14 years ago. We have lived in Russellville since getting married. We both graduated from Russellville High School and continued our education at ATU. Sean has worked for Arkansas Tech for 15 years. We enjoy living in Russellville because we both have family in the area. This is my second year serving on the REACH Board as Activities Director and my fourth year managing the REACH website. I look forward to the opportunities we have for this school year. I pray this year the REACH Board can encourage each of you in your homeschooling adventure.
REACH Meetings
Mark your calendars! At the November 16th meeting we will be having a REACH Business Expo and silent auction. Be sure to sign up by Friday, November 12th if you have a business, service, or product you would like to share with the membership. Read more
The REACH Board would like to serve you pancakes for breakfast. As per the event name, pajamas are anticipated. No need to get all dolled up, just come by in your coziest jammies for pancakes that you don't have to make, hot coffee, and some warm fellowship with other homeschool mamas. Childcare will be available. Read more
Membership News & Reminders
Business Directory
If you own a business and would like your business information added to your family listing in the Membership Directory, email
web@rsvlreach.org
. Please include the business name, contact information, a link to your business website or Facebook page, and a brief description. If you have any questions, please email
web@rsvlreach.org
.
HSLDA
If you plan to join HSLDA you can receive a discount as a REACH member. Just enter the code 210726 when prompted. Annual membership is $115 with our group discount, a savings of $15. HSLDA Membership Link
PSP Day-Parties/Skating/Parks
The 2nd Friday of each month is devoted to PSP-Parties/Skating/Parks. These activities are open to all ages including teens, but there must be an accompanying adult.
We have had great participation in PSP so far this year!
Our next meeting is PSP - Kickball on November 12th at Old Post Park. We will be playing kickball. If we have enough older kids we can split into younger and older groups to play. I will make sure we have bottled water available.
On December 10th we will have a PSP - Christmas Party at Grace Baptist Church. We will have a potluck, a craft, and a game. I will have a sign-up soon.


I hope everyone is having a good year so far. Looking forward to fun, food, and fellowship in the near future with you all.
Clubs
We're enjoying some great clubs this fall semester! Time to start thinking about Spring! What club might you like to offer? Contact Lauren Scott (
lauren.jesusismyjoy@gmail.com
) with your ideas for Spring 2022.
Intensives
We are looking forward to offering several intensives this year. REACH intensives are usually one or two-day activities to explore a particular topic. In the past, we have had the opportunity to attend intensives focusing on science labs, nature hikes, note-taking, writing, drawing, painting, the Constitution, and ballroom dancing. If you would like more information or have an idea and would like …Read more
Field Trips
November's field trip will take us to Sweet Clover Alpaca farms in Conway. Join us as we learn from Debbie how she takes care of her llama and alpaca. She will also show us how she spins their wool into yarn and what she uses it for. The date has changed to November 5th.


We had planned a field trip to the Arkansas Inland Maritime Museum in North Little Rock for Dec 2nd. It turns out that the Nutcracker is the next day. December is busy enough so we will postpone the Maritime field trip til the spring.


For full details on all field trips please check REACH calendar!
The Nutcracker- school show (a shortened production with local dancers that does not include the professionals). More information will be released as soon as available. Read more
Tour the capitol, led by State Representative Pilkington. The Capitol is decorated for Christmas and the Choir will be singing Christmas Carols in the Rotunda. We will have lunch in the Capitol cafeteria. Read more
Teen Events
The traditional teen marshmallow wars will continue this year. REACH has some marshmallow guns, or you can bring your own. You will indicate this on the sign-up form so we know how many are needed. Bring mini marshmallows and prepare for battle. For those not interested in marshmallow wars, we will have some board games available. Read more
Bring something from your home wrapped for a Dirty Santa game. Do not spend money! Hot dogs, condiments, and chips will be provided. You will sign up for mini chocolate bars, marshmallows, or graham crackers. Sign up by 12/14/21. Read more
High School Classes
Below are some of the High School classes that we have scheduled for the 2021-2022 year. If you are interested in teaching or facilitating a High School class for Spring 2022 you may contact a Board Member with that request no later than December 6. All High School classes must be approved through the Board.
Parent/Senior meeting: We will be having a meeting Tuesday, Nov. 9th at 6 pm. This is a mandatory meeting for every …Read more
Parents of Kindergarteners! The deadline to sign your child up for the 2022 kindergarten graduation is January 31st. We look forward to celebrating this milestone with you and your family!


The deadline to sign up is January 30, 2022
Grades: 4-12
Contact: Laura Irvin (479)518-5436 lab015@yahoo.com
Cost: ~$25/student paid to BJUP when the order is placed in late February or early March Read more
GIVE TO REACH
FlipGive - To become a team member, use code C339UZ when prompted.
Fresh Roasted Coffee and Artisan Tea
Box Tops 4 Education A collection box is also located in the REACH Library. For the new style of Box Tops, you will need to use the Box Tops phone app to scan receipts within 14 days of purchase.


REACH Codes/Information
REACH Library Information
Reminder: Please note that this information is for current REACH members only.
Sign in upon arriving and sign out upon leaving.
No food or drink allowed in the library.
Follow displayed instructions for checking out and returning books
Use the 3,700+ items

REACH Library Database
Check out our library tab.
Local, State, or National Events
**The following are not REACH-sponsored events but are provided for informational purposes only.**
We are so excited to announce that the Claiborne Music Studio is offering Introductory Vocal Classes in the fall! We are offering half off for homeschoolers. Read more